The sleeping Lion of the Bavarians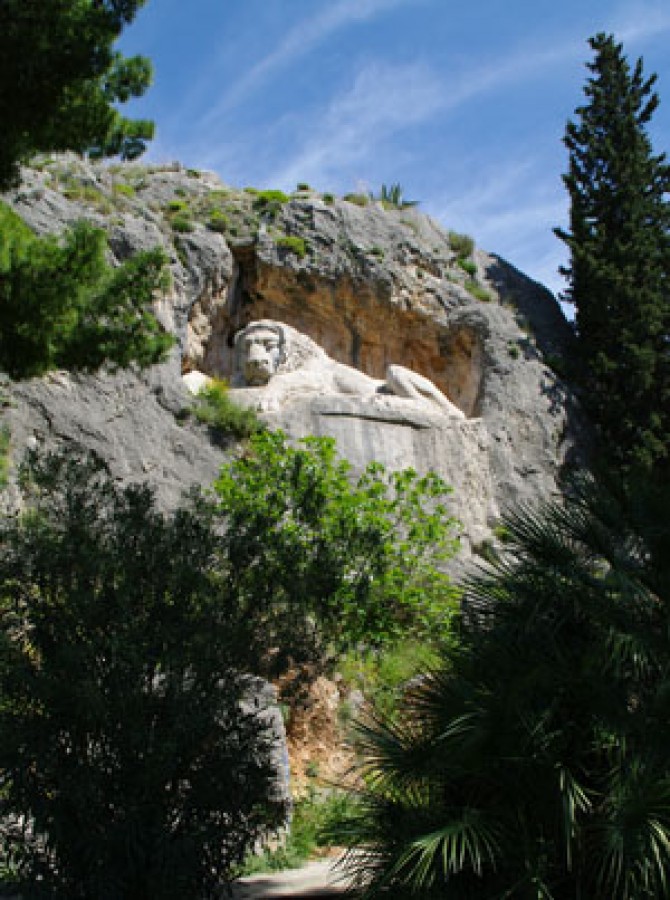 As you walk in the beautiful city of Nafplio, in Pronoia district, you will stumble upon an enormous sculpted lion, that appears to be sleeping, on the rock of Palamidi. It is one of the first open-air sculptures of the modern Greek state and can be seen from afar due to its massive size.
The Lion of the Bavarians was created in 1836 by the German sculptor Siegel, when King Ludwig, King Otto's father, wished to build a monument dedicated to the Bavarian soldiers in Otto's guard that died from a typhoid epidemic that struck Nafplio between 1833 and 1834. The artist carved the lion into the rock inspired by the one that was set up in the Swiss Lucerne, in memory of the Bavarian soldiers killed in Paris, during the French Revolution. The Lion in Nafplio reflects the grief for the death of the brave Bavarian soldiers. The locals used to satirically refer to the Bavarian Lion as "Aggouroon", the Greek word for cucumber, saying that the Bavarians died of the many cucumbers they consumed. In front of the monument, there is a lovely little park where you may rest while admiring this exceptional work of art and history.
photo credits:www.nafplio.gr/ethnikipinakothikiparatmenu.html